January 2015
What is the mission that drives your business?
Happy New Year! I'm often ask, "what is your mission that drives your business" that is such a great question and that is why we want to start off this new year off with this important subject.
Have a blessed and prosperous 2015!
George Madiou
Founder and Publisher
Title

Category

Crossed to

Account

Clicks

414

Added on

Oct 1, 2013

Comments

0

Tags
Article Subtitle
Over the years I learned very quickly how important personal growth was in every area of my life
Article Article Intro
When starting my business online in 1996 in the Network Marketing profession I had no business experience, no degrees, barely made it out of high school, no corporate background, no income of my own, and very little confidence. I learned very quickly how important personal growth was in every area of my life and dove in to become a better person, leader, friend, wife, mom and entrepreneur and no matter what, have never given up on my dreams throughout this journey. Over the years I've experienced what it's like to be on the mountain top and in the valley. I've been through challenges, discouragement, struggles, heartache, and many disappointments. It hasn't been an easy road but it's a road well worth traveling because in the end we come out a better person. And that alone is something priceless that will carry us a long way in our journey through life.
Article Content
I've met and worked with all sorts of personalities, some really encouraging and others who were discouraging, negative and jealous of others success. Perhaps those who have decided to pull others down for following their dreams and building a life for their families really need a bit of personal growth. Don't we all? It's a continuous journey isn't it? I've learned over the years while developing my own personal self not to be too distracted by the criticism of others, especially when it's sent in a negative condescending way. Remember what Zig Ziglar always said, "the only taste of success some people get is to take a bite out of you." They choose, instead, to lash out, criticize, or become cynical.... choose to take the high road and rise above mediocrity!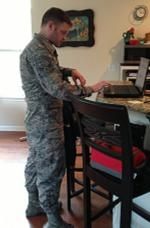 Our older son joined the US Air Force last March and has been through quite a journey, including having a medical emergency his first two weeks during boot camp at Lackland AFB in San Antonio and ending up in the hospital during Easter weekend. They told him they were possibly going to send him home and he'd have to seek private medical attention and then possible re-enter after he had recovered. He was devastated because this was a dream he had since he was in 8th grade. He spent years researching the right branch of the military and job he felt would be a good fit. He wasn't going to listen to all the noise telling him he may have to quit! After much prayer, his undying perseverance, and never give up attitude, it turned out they decided to fix his condition with a simple procedure and he was allowed to continue his training, has received his first two stripes, a pay raise and will be graduating from tech school at Goodfellow AFB Feb. 1st. and headed to Ft. Meade Maryland in March to serve our country proudly.
Update: Our son is doing really well in his new position. We just got back from visiting him at Fort Meade Maryland and he gave us a tour of the area including several trips over to Annapolis and over the Bay bridge to  Kent Island where we really enjoyed dinner at Bridges restaurant on the water. We are so proud of him! This is a kid that they said couldn't read in first through fourth grade, barely made it out of high school, they said he was clueless and no one would hire him. Because he decided to never give up he's now working for the US Air Force. Go figure!
Continue to grow yourself personally, professionally, shut out all the noise and never look back on those who say you cannot do something!
By the way here's Best-Selling Author, Motivational Keynote Speaker and Filmmaker
Greg S. Reid.
Greg was commissioned by the Napoleon Hill foundation at the 100 year mark of 'Think And Grow Rich'. I have read 'Think And Grow Rich' several times over the years but had never heard of Greg before. I was very inspired by his message  and hope you will be too.
http://www.youtube.com/watch?v=MhIJV2p3MTE
Enjoy the Journey & Never Give Up! Sue Seward
Rating
Rating:
0.00 / 10 (0 Vote cast)
Select A Topic
MLM STORIES
,
MLM SYSTEMS
,
MLM MONEY
,
MLM PROFESSIONAL DEVELOPMENT
,
COMMUNICATION
,
COLUMN
,
WOMEN
,
MLM ACTION
,
THINKING
,
MLM DUPLICATING
,
MLM SKILLS
,
MLM TRAINING
,
MLM CUSTOMERS
,
MLM MARKETING
,
MLM TECHNOLOGY
,
VALUES
,
MLM NETWORKING
,
MLM MOTIVATION
,
MLM PSYCHOLOGY
,
MLM COACHING
,
MLM RELATIONSHIP
,
CLASSIC
,
MLMFINANCES
,
CREATING
,
MLM PROMOTION
,
MLM PROSPECTING
,
MLM SPEAKING AND LISTENING
,
LISTENING
,
MLM LEADERSHIP
,
MLM INDUSTRY
,
MLM TOOLS
,
MLM PERSONAL GROWTH
,
VISION
,
WISDOM
,
MLM GETTING STARTED